Get Over Your Fear of Picking Colors
It's the one decision you keep putting off—what color to paint the walls?!
Some people live with a patchwork of paint samples on their walls for years...unable to choose.
Others "play it safe" with neutral everything (and wonder why their home lacks personality).
Either of those sound familiar?
You want a home that feels cohesive and inviting...
But one trip to the paint chip aisle is instantly overwhelming.
No one taught you how to choose colors that go together...until now!
How to Create a Whole House Color Plan
Transform the way you make color decisions so you can choose the perfect color scheme for your home.
Instead of choosing wall colors room by room (which is agonizing each and every time and leads to a home with no flow)...
It's better to choose a whole house color palette up front. (It's easier than it sounds! We'll take it step by step.)
With a few lessons in color and the right starting point, you can easily choose all the wall colors and accent colors for your entire home—before you paint a single wall.
A pre-planned color palette will give you the confidence to paint and decorate each room as you go knowing it will fit in with the rest of your home.
Imagine:
Living in a color scheme you love (backed up by color theory but personalized to you)
Confidently choosing colors that you know will look great together and getting it right the first time (so you never have to choose paint colors again!)
Effortlessly using color strategically throughout your home—on walls, furniture, decor—to create flow from one room to the next
This class is beginner-friendly!
Color Choice: The Basics of Color Theory for Decorating
Your color training starts with a quick refresher on color theory basics and how they apply to decorating. This introductory lesson will help you make better color choices, understand how colors work together, and avoid color clashes.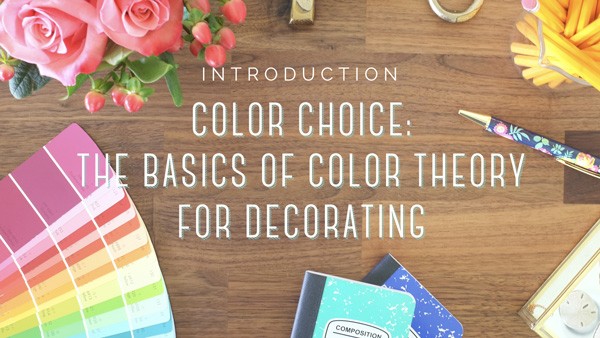 If you're afraid of committing to colors and worried you might mess up or choose the wrong one, you're not alone. Most people are nervous about big color decisions. This class will help.
In Color Choice, you'll learn:
Color theory fundamentals so you can understand the color wheel and how to choose basic color schemes for decorating
How to pick colors that work well together and turn out the way you envisioned
How to choose a color scheme that enhances the way you want your home to feel
Everything You Need to Know to Master Color in Your Home
Your training continues with three in-depth lessons on undertones, wall colors, and accent colors.

You'll learn:
How to describe a color—what hue, tint, tone, shade, neutral, and undertone mean and how understanding them can help you choose colors
How to choose colors and neutrals that coordinate with the existing finishes in your home (like your wood floors, tile, carpet, countertops, etc.)
The trick to see the undertones in neutral colors so you can choose the right white, beige, or gray (and not be surprised when you paint it on the wall)
How to build your whole house color palette with a detailed 7-step process to make the color decisions easy
How to decorate with accent colors, wood tones, and metal finishes to make your home feel cohesive while still giving each room it's own unique personality

How many accent colors to use and where to use them
The do's and don'ts of mixing metal finishes (yes, you can mix metal finishes!)
How to mix and match wood tones for furniture and decor
Are you ready to break out of your neutral comfort zone and bring some color into your home?
Enroll in Create a Cohesive Home with Color now and I'll show you how.
This course is not currently open for enrollment.
Kalyn Gave Her Home Office a Colorful Makeover
"From the very first lesson, I knew this was exactly what I needed to stop second-guessing all my decorating decisions. Jackie helped me create a strategy for every room in my home, and now I don't have to wonder which colors to choose, or accent pieces to buy. Decor stores don't even overwhelm me anymore!"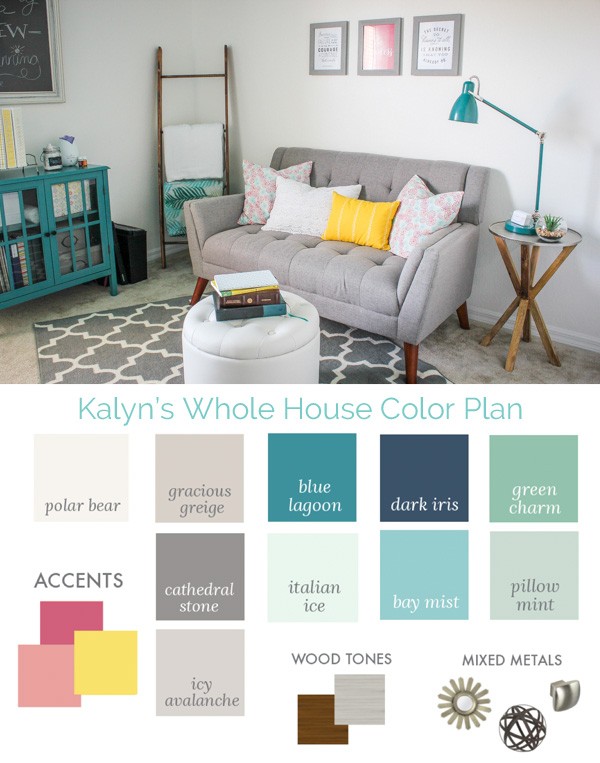 "I LOVE MY OFFICE! I spend every day in here now. Sometimes Saturdays too! Every time I walk in, I'm instantly inspired to tackle the day and be productive until dinner. THIS is why I work from home, and now I have a special space just for me."

Kalyn Brooke
Florida
"Creating A Cohesive Home with Color is in my opinion the number one class. This class helped me to define how I wanted to feel in our home and how I could achieve that with colors. Having a color palette helps with future color choices too, so time invested in this class sure pays off! Picking the right color for our powder room or our bookcase or deciding what color curtains I want in our kitchen were all easier because we have a whole house color palette figured out :)"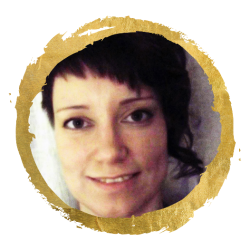 Jenni Ahokas
Finland
What's Included
Get four video lessons and four cheat sheets to help you create your whole house color plan.
TIME: 130 mins
SKILL LEVEL: Beginner to Intermediate
Class Syllabus
Introduction
Available in days
days after you enroll
Create Your Whole House Color Plan
Available in days
days after you enroll
This course is not currently open for enrollment.
What You Need for this Class
All you need to take this class is:
A computer or mobile device with an internet connection to watch the videos
Optional: A printer to print the worksheets
Optional: A paint color fan deck from your favorite paint brand. You can also pick up free paint color chips at any home improvement store.
You do NOT need:
Any design experience
An "eye for color" - I'll teach you everything you need to know to understand color and what effects how colors look in your home.
To be ready to paint. It's never to early to start developing your whole house color plan. (It's also never too late to improve your color scheme.)
Bonnie used color and pattern to give her living and dining room a more modern look.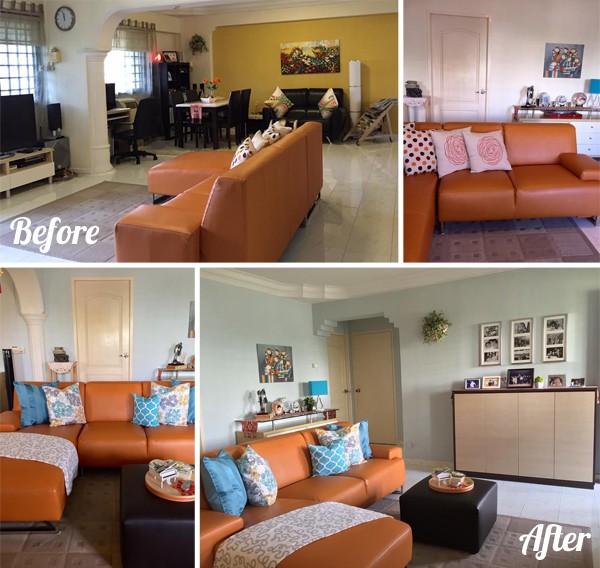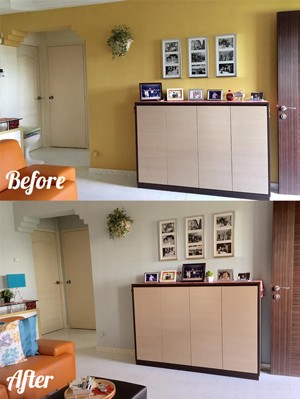 Now she gets compliments from everyone…from her piano students to her Feng Shui consultant.
"The complementary color palette that I first learned about in Color Confidence sounded like the key to making my space feel more modern and getting the wow factor.
I've always wanted a cosy feel in my living area. Before it felt neat and organised, but now it's relaxing and inviting.
Guests compliment the new look and family members feel it is more comfortable and relaxing now, too."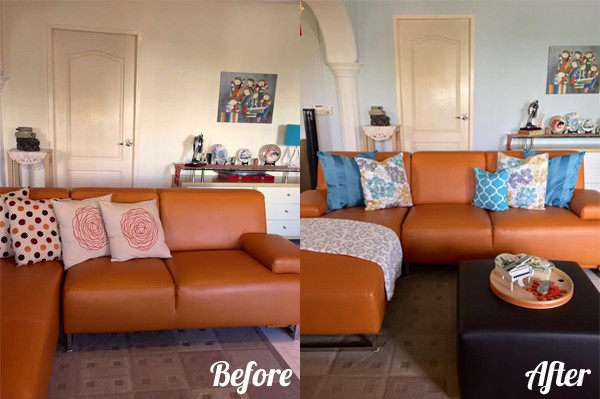 Bonnie Koh
Singapore
Your Teacher
Jackie Hernandez teaches women the science behind the art of decorating so they can create a beautiful, meaningful home, even if they aren't creative. Jackie founded School of Decorating to bridge the gap between "designer" and "homemaker." As a wife, mother of two boys, and a small business owner that works from home, she knows how important it is to make your home fit you.

Frequently Asked Questions
What Students Say About This Class
"The lessons on color have been so enlightening, and I have gone through them multiple times. I feel so much more confident now that I have an understanding of color theory."
Lynne Wilson
Madison, Alabama
"I can see now why my home was so hodge podge. There was no consistency on colors or undertones. Making a whole house color palette with wood finishes and metal finishes, evaluating undertones and picking a cholor scheme, helped me see my home in a whole new light."
Holly Sedrick
Springdale, Arkansas
"Having a cohseive color scheme throughout my home, as well as coordinating metals and accents, has been hugely helpful. I was able to come up with a plan for the whole house and then implement the plan as I had time and money for each room."
Tiffany Weeks
Colorado
This course is not currently open for enrollment.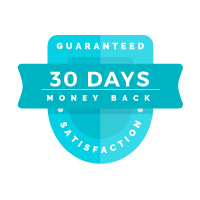 Try This Class Risk-Free
All School of Decorating classes have a 30-day money-back guarantee. If you're not happy with the class, I'll give you a full refund. No questions asked.