Transform Your Entire Home This Year (even if you only do one class per month)
Here's your complete breakdown of the classes within each course…
Course #1: Color Confidence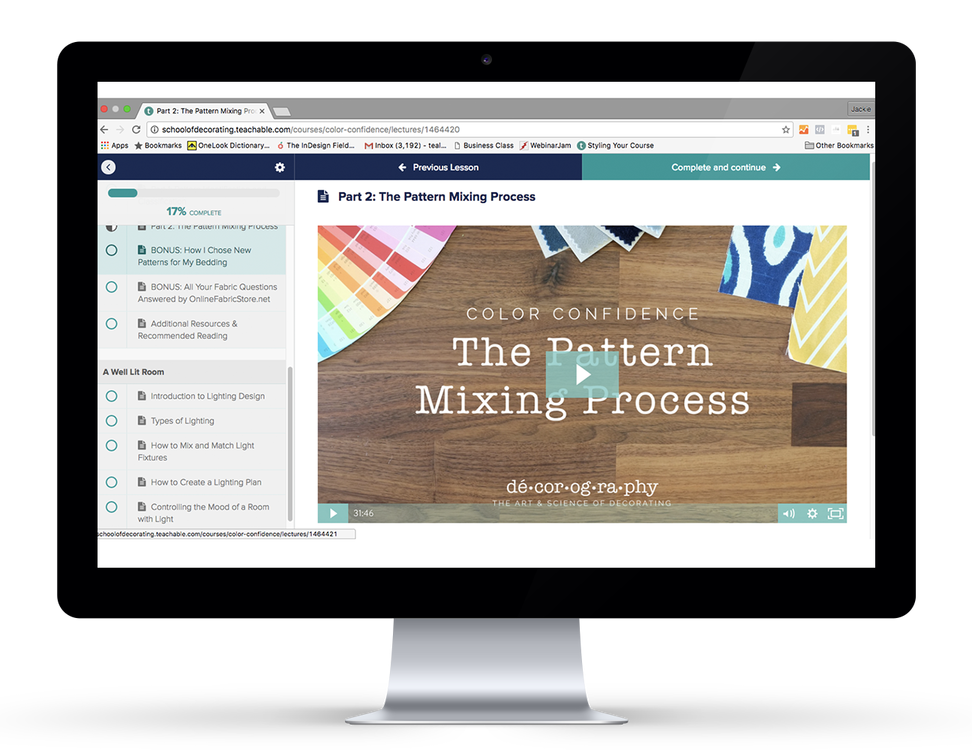 BONUS Introductory Class: Color Choice
The basics of color theory for decorating so you can finally understand color and make color decisions for your home.
Class #1: Creating a Cohesive Home with Color
Transform the way you make color decisions so you can create a whole home color palette that makes your home flow from room to room.
● Easy to follow 7-step process for choosing the main colors for your walls and furnishings.
● How to identify undertones in fixed finishes and neutrals so you can choose colors that go with the existing fixtures in your home.
● How to choose accent colors, wood tones, and metal finishes that compliment your whole home color palette.
Class #2: How to Mix and Match Patterns
A no-fail formula for picking patterns that works for fabrics, upholstery, rugs, bedding, and wall coverings.
● Discover the easiest way to choose a collection of patterns and open yourself up to using multiple patterns in a room.
● How to classify, identify, and describe patterns so you can successfully choose patterns that work well together.
● Learn the three pattern formula, then learn how to extend your pattern collection to five or more patterns in the same space without them being too busy or clashing.
Class #3: Design a Well Lit Room
Use lighting design to easily make your home more functional and beautiful.
● How to best use the three main types of lighting and the most common light fixtures to create a well lit room.
● How to mix and match light fixtures to create an interesting lighting design.
● How to control the mood of your room with simple automation, specialty light bulbs, and properly diffusing light.
Course #2: Planning Precision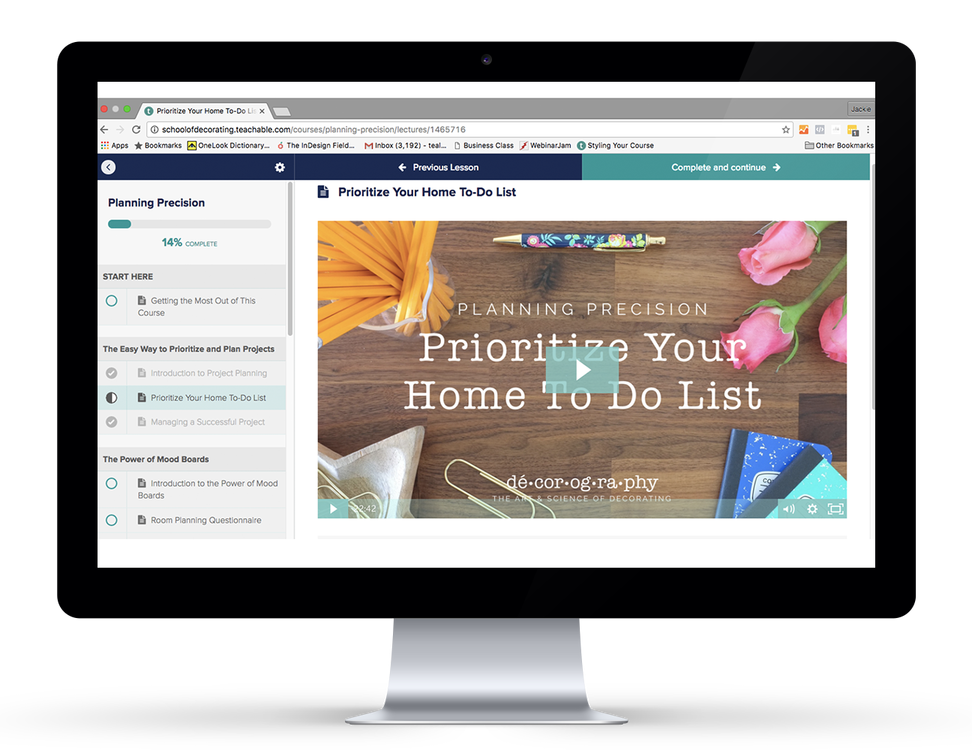 Class #1: The Easy Way to Prioritize and Plan Your Home Projects
Prioritize and organize your home project list so you know which project to do next and which projects you shouldn't bother doing at all.
● Follow a simple four-step process to prioritize your home project ideas.
● Learn the basics of project management so you can get any project done on time, under budget, and without getting a divorce.
● Get the worksheets you need to plan your project, track your progress, and make every project a success.
Class #2: The Power of Mood Boards
Plan your rooms visually so you can make sure the end result matches your vision for the space.
● How to think like a designer when planning your room (and the exact questions you need to answer to get started).
● How to plan a successful room makeover using the seven layers of a room.
● The three best free online tools for creating mood boards and my recommended workflow.
Class #3: Figure Out Your Furniture Layout
Solve the puzzle that is space planning with simple strategies and tools to plan your ideal furniture layout.
● Create a furniture plan that fits your lifestyle with a focus on the activities and feeling that are most important to you in each room.
● How to use a free online tool to create a re-usable plan to rearrange your furniture digitally whenever you want.
● See detailed space planning recommendations for 12 real homes with common furniture and space limitations.
Course #3: Styling Savvy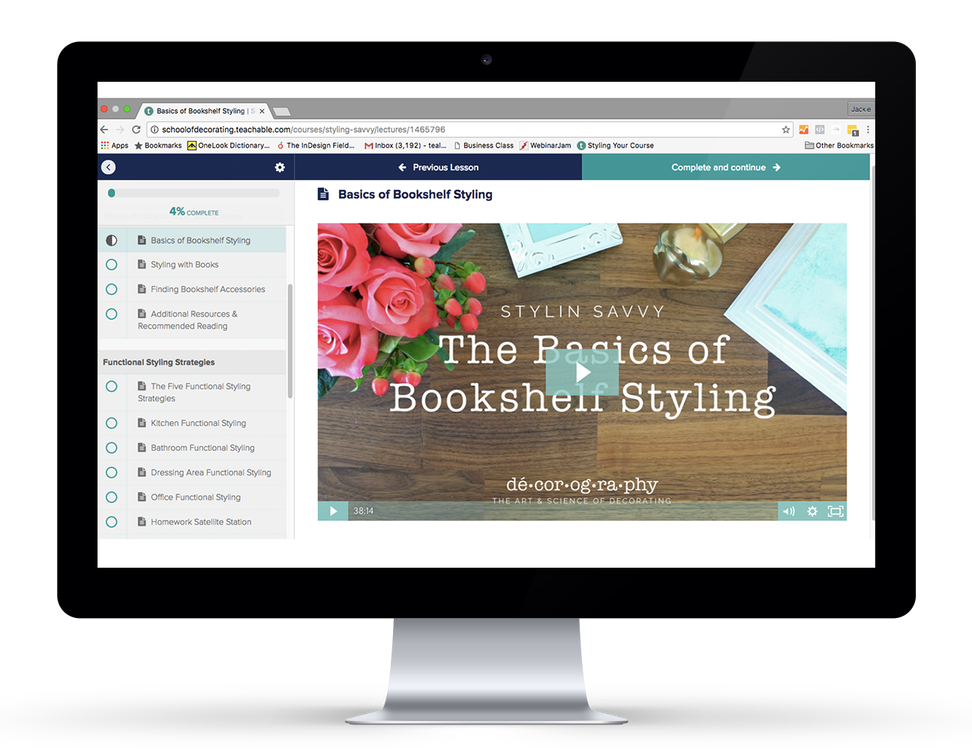 BONUS MINI CLASS: Free Decorating
How to "Shop Your Home" so you can use what you already have to refresh any room.
BONUS MINI CLASS: 7 Simple Styling Secrets
How to decorate better with the decor you already have.
Class #1: Functional Styling Strategies
Learn styling strategies to arrange everyday necessities so the busiest rooms in your home look beautiful too.
● How to use five styling strategies to organize and beautify the functional spaces in your home.
● See how the five functional styling strategies apply to a real kitchen, bathroom, dressing area (in the bedroom), and home office.
● Learn how to get the whole family involved so you can create new habits and systems to keep your home neat, organized, and well styled.
Class #2: How to Style Your Bookshelves
Learn how to balance practical storage with pretty display on your bookshelves.
● How to decorate your shelves with and without books and how to choose the best accessories for your bookshelves.
● How to make your books look good and make space to mix in meaningful and decorative objects.
● Learn a 5-step process for arranging your shelf decor, 14 ways to stack books and mix in decor, and how to choose the right accessories for your bookshelves.
Class #3: Everyday Flower Arranging
How to arrange flowers in a vase, create simple centerpieces, and flower care tips and tricks, so you can welcome flowers into your home more often.
● How to choose flowers and greenery for your arrangements with a focus on inexpensive farmer's market and grocery store bouquets.
● How to arrange flowers in a vase and what flowers go best in which vases.
● How to use wet floral foam to create beautiful centerpieces just as easily as arranging flowers in a vase.
Course #4: Personalization Prowess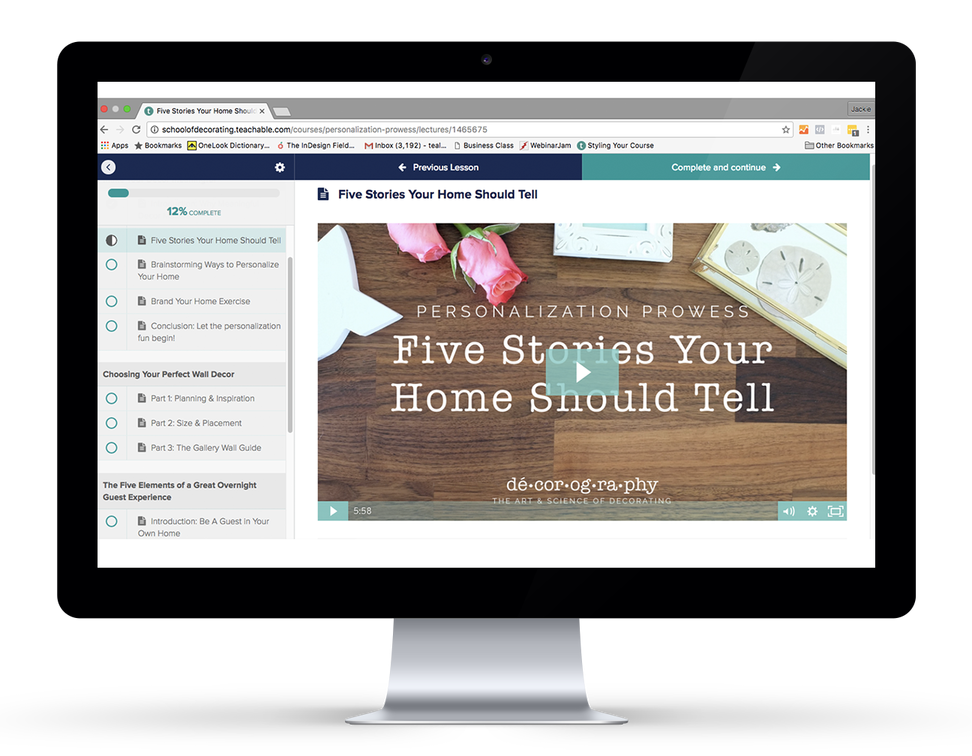 Class #1: Make Your Decor Meaningful
Personalize your home decor and give your home a personality so you can make your home a reflection of you.
● How personalize your decor and the five stories your home should tell about you.
● Learn how to brainstorm ways to showcase your story and translate your ideas into artifacts you can decorate with.
● Give your home a unique, consistent personality of its own with a fun "branding" exercise.
Class #2: Choosing Your Perfect Wall Decor
Everything you need to know to plan your wall decor and choose the right size and placement for any wall.
● Discover the three main types of wall decor and where to use each type.
● How to determine the proper size of wall decor for any space with easy formulas and guidelines.
● Where to place your wall decor to create the most visual interest.
● How to plan and hang beautiful gallery walls mixing together frames, art, and decorative wall decor.
Class #3: The Five Elements of a Great Overnight Guest Experience
Everything you need to prepare to give your guests a comfortable and relaxing stay at your home.
● How to create a comfortable and welcoming sleeping area (whether you have a guest room or not).
● What food and drink considerations you need to make for mealtimes and in-between so your guests don't go hungry or thirsty or feel awkward asking you for something.
● How to take your guests comfort to the next level and what to plan in advance before your guests arrive so you can be a relaxed and gracious host.