Learn How to Arrange Flowers Like a Pro (Even If They're From the Grocery Store)
Who doesn't love fresh flowers?!
It'd be nice to have them on the dinner table all the time, if picking up a bouquet at the flower shop or ordering online wasn't so pricey.
But what if you could arrange the flowers yourself?
What if you could buy those affordable flowers from the grocery store and make them look better than the designer arrangements?
Then, you could surround yourself with flowers all the time—a centerpiece for the table, a vase-full on your nightstand, and a hand-wrapped bouquet for that friend that needs a pick-me-up. All for a fraction of the price!
Plus, when you know how to select the right flowers and properly care for them, you can make them last twice as long.
In Everyday Flower Arranging, you will learn:
How to choose the right focal flowers, greenery, and filler flowers to create show-stopping arrangements
How to make seven different types of arrangements step-by-step
The secret ingredient to add to a grocery store bouquet to make it look like a designer arrangement
How to arrange flowers in vases big and small (and which flowers go best in which vases)
How to use wet floral foam to create beautiful centerpieces—your friends will think you hired a florist for your next dinner party!
Plus, how to wrap flowers to give as a gift (You know how much you love to receive flowers, imagine the joy you will feel to give flowers.)
This class is broken down into small video segments so you can watch each one and practice your new floral design skills right away. In addition to the video lessons, you'll get these three cheat sheets:
Checklist: How to Prep Your Flowers and Greenery
How To Arrange a Mixed Bouquet in a Vase (with step by step pictures!)
Floral Gift Tracker
Here are two of the arrangements you'll learn how to make in this class: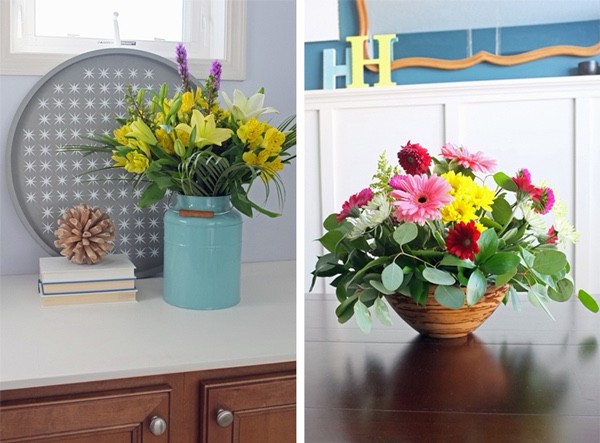 Each of these large arrangements from a florist would easily cost over $45 + the cost of the container. Using grocery store blooms and my own containers, I created these arrangements for about $10 each. In this class, I'll show you how to make both of these arrangements and more!

Are you ready to save big $$$ on fresh flower arrangements and enjoy flowers in your home more often?
Enroll now and learn how to create designer-style arrangements for a fraction of the price.