Learn How to Arrange Flowers Like a Pro (Even If They're From the Grocery Store)
Who doesn't love fresh flowers?!
It'd be nice to have them on the dinner table all the time, if picking up a bouquet at the flower shop or ordering online wasn't so pricey.
But what if you could arrange the flowers yourself?
What if you could buy those affordable flowers from the grocery store and make them look better than the designer arrangements?
Then, you could surround yourself with flowers all the time—a centerpiece for the table, a vase-full on your nightstand, and a hand-wrapped bouquet for that friend that needs a pick-me-up. All for a fraction of the price!
Plus, when you know how to select the right flowers and properly care for them, you can make them last twice as long.
In Everyday Flower Arranging, you will learn:
How to choose the right focal flowers, greenery, and filler flowers to create show-stopping arrangements
How to make seven different types of arrangements step-by-step
The secret ingredient to add to a grocery store bouquet to make it look like a designer arrangement
How to arrange flowers in vases big and small (and which flowers go best in which vases)
How to use wet floral foam to create beautiful centerpieces—your friends will think you hired a florist for your next dinner party!
Plus, how to wrap flowers to give as a gift (You know how much you love to receive flowers, imagine the joy you will feel to give flowers.)
This class is broken down into small video segments so you can watch each one and practice your new floral design skills right away. In addition to the video lessons, you'll get these three cheat sheets:
Checklist: How to Prep Your Flowers and Greenery
How To Arrange a Mixed Bouquet in a Vase (with step by step pictures!)
Floral Gift Tracker
Here are two of the arrangements you'll learn how to make in this class: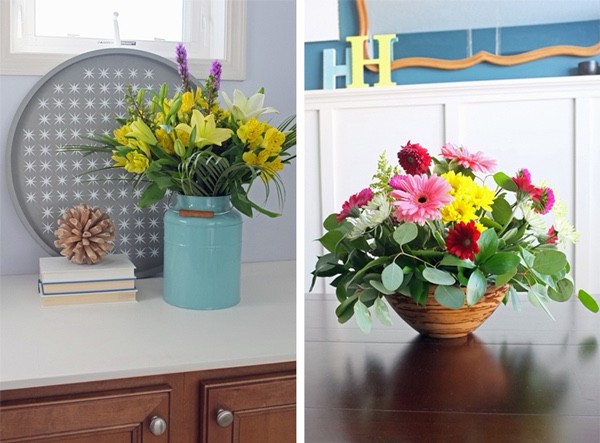 Each of these large arrangements from a florist would easily cost over $45 + the cost of the container. Using grocery store blooms and my own containers, I created these arrangements for about $10 each. In this class, I'll show you how to make both of these arrangements and more!

Are you ready to save big $$$ on fresh flower arrangements and enjoy flowers in your home more often?
Enroll now and learn how to create designer-style arrangements for a fraction of the price.
What's Included
Get immediate access 12 video lessons and three cheat sheets that will have you arranging flowers like a pro in no time.
TIME: 81 mins
SKILL LEVEL: Beginner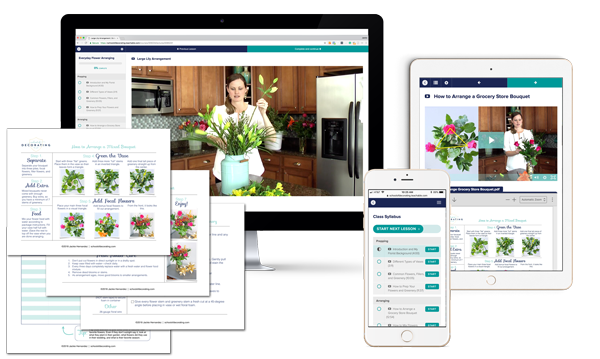 This course is not currently open for enrollment.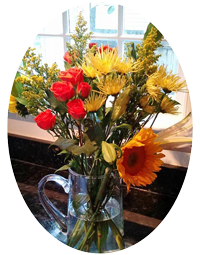 "Trader Joe's flowers for $5.99! I love flower arranging after Jackie's class!"
Shelly Marstall, Virginia
What You Need for this Class
All you need to take this class is:
A computer or mobile device with an internet connection to watch the videos
Optional: A printer to print the worksheets
Basic supplies for flower arranging:
Fresh Flowers — Each lesson includes a floral "recipe card" with the type and number of flowers used. All of the flowers and greenery featured in this class were purchased at local grocery stores. Farmers markets are another good source for local flowers during spring and summer. You can substitute similar flowers when the ones shown are not available.
Containers, like vases and bowls. You probably already have suitable containers. Just make sure they can hold water or line them with plastic.
Wet floral foam - You can purchase this at a craft store. Make sure it is called WET floral foam, which is for fresh flowers.
Scissors or a knife (Swiss Army knife or floral knife)
A list of optional supplies and tool recommendations will be included in the class, but the above list is the only supplies you need to get started.
You do NOT need:
Any floral design experience
Access to a florist or wholesale flowers—grocery store flowers will do
Fancy tools - any sharp scissors or pruning clippers will work for cutting stems
Your Teacher
Jackie Hernandez teaches women the science behind the art of decorating so they can create a beautiful, meaningful home, even if they aren't creative. Jackie founded School of Decorating to bridge the gap between "designer" and "homemaker." As a wife, mother of two boys, and a small business owner that works from home, she knows how important it is to make your home fit you.

Frequently Asked Questions
What Students Say About This Class
"Thanks to this class, I was able to confidently arrange my Mothers Day bouquet nicely in a vase! :)"
Petra Erlandson
California
"I think from now onwards I should try bringing more fresh flowers home to decorate. Flowers always make the home so lively and happy."
Bonnie Koh
Singapore
"Whenever I have gotten a bouquet in the past I just threw it in a vase with tap water and let them die quickly. No more! :)"
Brittany

"I think my favorite tip was to use so much greenery! It really allows the flowers to shine in the arrangements. I also had not understood the use of floral foam before so this will be fun to experiment on a centerpiece or two."
Nicole Branham
Indiana
This course is not currently open for enrollment.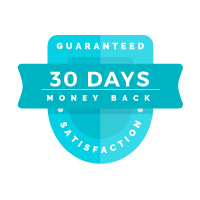 Try This Class Risk-Free
All School of Decorating classes have a 30-day money-back guarantee. If you're not happy with the class, I'll give you a full refund. No questions asked.