Add the 'WOW' Factor to Any Room in Your Home with Pattern
You don't have to stick to solids and neutrals anymore. The right mix of patterns can take a room from boring to breath-taking. With this class, you'll learn how to use patterns like a pro.
Get the no-fail formula for mixing and matching patterns that's as easy as 1-2-3.
Discover the easiest way to coordinate multiple patterns in a room —works for fabrics, upholstery, rugs, bedding, window treatments, wall coverings
Learn how to classify, identify, and describe patterns so you can successfully choose patterns that work well together.
Master the basic three pattern formula, then learn how to add even more patterns to the same space without them being too busy or clashing.
By the end of this class, you'll be able to:
Identify 24 common pattern designs
Tell the difference between organic, geometric, and neutral pattern types
Describe any pattern based on scale, repeat, and style.
Create collections of three to five patterns that look great together
Use color to coordinate fabrics without making them look matchy-matchy
Pick the right pattern scale and for different elements of a room
Avoid pattern combos that clash or look too busy
Reverse-engineer the process to evaluate new fabric options for a room and choose the one that looks best
Learn how to successfully use multiple patterns in the same room. Take the How to Mix and Match Patterns class now.
What's Included
Get immediate access to three video lessons, two bonus videos and three cheat sheets to become a pattern mixing pro.
TIME: 78 mins + 2 bonus videos
SKILL LEVEL: Beginner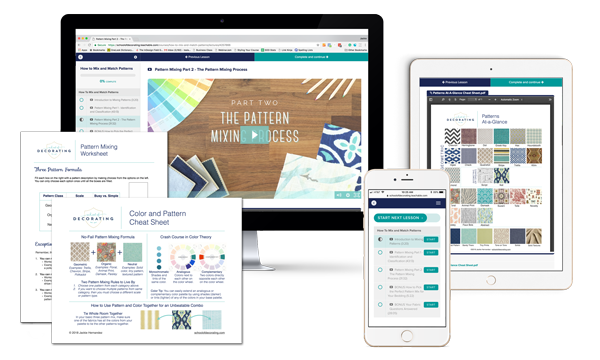 Lesson Overview
Introduction to Mixing Patterns
Pattern Mixing Part 1: How To Identify and Classify Patterns
Pattern Mixing Part 2: The Pattern Mixing Process
Lesson Downloads
Pattern Mixing Worksheet
Patterns At-A-Glance Cheat Sheet
Color and Pattern Cheat Sheet
Bonus Content
Video: How I Chose New Patterns For My Bedding (See Them in Action in My Bedroom!)
Expert Video Q&A: All Your Fabric Questions Answered by OnlineFabricStore.net
What Students Say About This Class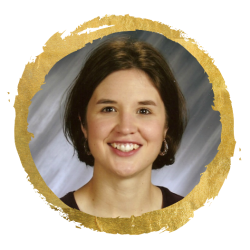 Missy Miedema
Grand Forks, ND
"I love a well-decorated space in photos but didn't feel capable of pulling those spaces off in real life. Since starting School of Decorating, I have learned a lot, especially about fabrics. How to Mix and Match Patterns was an excellent class! It was packed with information and good practice exercises."
"I was decorating challenged! Too much over thinking, not enough doing. Since joining School of Decorating, I am better prepared, more carefree about the decorating process. I love Jackie's very practical methodology for color and pattern selection."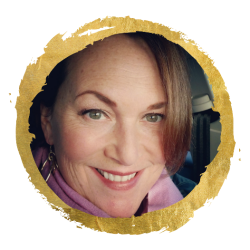 Leslie Kilian
Lake Oswego, OR
What You Need for this Class
All you need to take this class is:
A computer or mobile device with an internet connection to watch the videos
Optional: A printer to print the worksheets
You do NOT need:
Any design experience
Patterned furnishings - this class shows tons of examples with fabric swatches, so you can learn what patterns you like and how to mix them before you invest in new furnishings or fabrics
Your Teacher
Jackie Hernandez teaches women the science behind the art of decorating so they can create a beautiful, meaningful home, even if they aren't creative. Jackie founded School of Decorating to bridge the gap between "designer" and "homemaker." As a wife, mother of two boys, and a small business owner that works from home, she knows how important it is to make your home fit you.

Frequently Asked Questions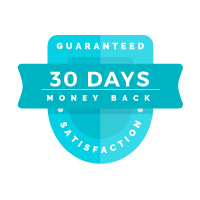 Try This Class Risk-Free
All School of Decorating classes have a 30-day money-back guarantee. If you're not happy with the class, I'll give you a full refund. No questions asked.