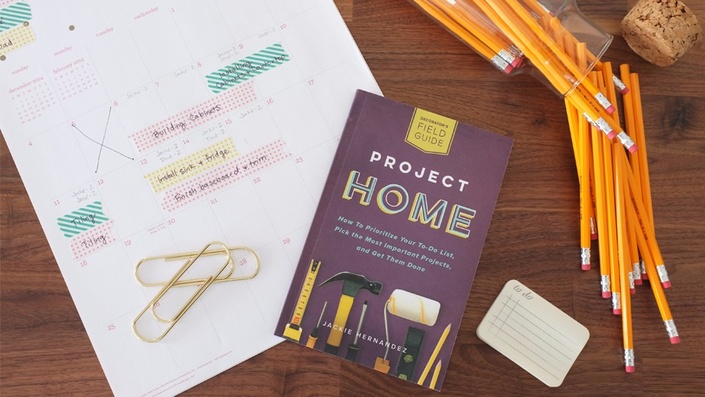 Project Home
Prioritize Your To-Do List, Pick the Most Important Projects, and Get Them Done
Create a Foolproof Plan to Finish the Home Projects that will Change Your Life
Do you have a long list of ideas to make your home better? But no idea how you're going to get them all done?
There's too much to do and you don't know where to start.
You don't finish the projects you do start because you run out of time, money, or energy.
You're so sick of living in the "before"—can't you just skip to the "after" already?!
So how do you finish all your project ideas and fast forward to a finished home?
Sadly, this is just one of those things no one ever taught you about being a homeowner. Left to your own devices…
You've become a pro at pinning hundreds of ideas for every room.
You've gotten really good at starting projects—here, there, and everywhere.
But you're starting to lose faith that your home will ever be "finished."
I understand. I used to feel stuck in my home too. I was in charge of multi-million dollar projects at work but couldn't manage a simple room makeover at home. That is, until I brought my work home—when I started applying project management to my home projects.

By following a simple, repeatable process I turned every home improvement I started into a success.
The truth is…
You can't do all the projects. But if, at any given moment, you know how to pinpoint your top priority home project and how to successfully complete it, then you can…
Make life-changing home improvements.
Finish what you start on time, within budget, and love the way it turns out.
Realize your dream of turning a house into your home.
You don't need more time or money; you need Project Home.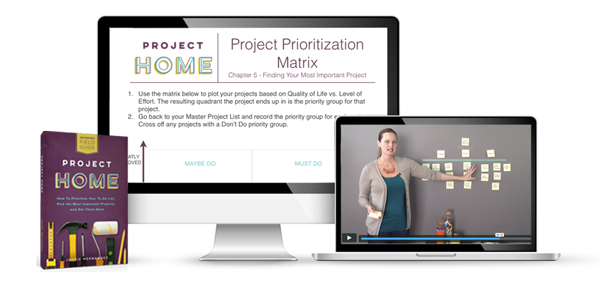 Project Home will quickly become your most referenced decorating and home improvement book. This guide will show you how to:
Cure analysis paralysis so you can narrow down your list of ideas to the handful that really matter.
Get unstuck and pick THE project to start with that will have the biggest impact right away.
Take action and make a solid plan with success built right in so you'll be enjoying the fruits of your labor fast.
---
"Such a great and helpful book! If you're looking for a step-by-step way to manage all your household projects this is the book you want. Jackie makes home project management easy to understand and follow so you can get the important things done and spend less time fretting over all the things you never have time to do and more time sculpting a home you love." - Danielle B.
---
Project Home isn't just a book, it's a field guide to your best home project ever.
Along with the book, you'll get seven worksheets that will guide you step-by-step through planning your entire project (and you'll be able to come back to these resources for every new project). Plus, you'll get access to four videos showing you how to use the methods from the book, including how to:
Prioritize your to-do list with a fun-for-the-whole-family exercise that will show you exactly where to focus first (and get everyone to agree!).
Figure out what's really involved in that dream project so you can plan for everything and avoid nasty (sometimes costly or time-consuming) surprises.
Work backwards to estimate how much time your project will actually take with freakishly good accuracy.
Use a calendar to plot out your entire project so you know exactly when it will be done (in other words, when you should plan the party!).
What do you want to finish in your home this year?
Don't let another week, month, or year pass you by daydreaming about how you're home will be someday.
Get Project Home and get started on your plan today.
Your Project Home kit includes:
Project Home ebook (PDF version)
7 printable worksheets (everything you need to plan your projects)
4 video lessons (24 minutes of video content total)
---
"What I love most about Project Home is how each step to planning home projects is laid out thoroughly and in an easily understandable way. Jackie's method of planning a home-full of projects is completely intentional and organized. Jackie has a background in project management and really breaks it down step by step for people who have no experience with project constraints, budgets, and schedules. There are several worksheets that are helpful for walking through these steps. I'm thrilled that I read Project Home before moving into my new house because with this book's guidance, I now have a plan to make a list of all of the projects I'd like to complete and I'll be able to be so much more intentional about prioritizing, managing, and completing them. This book is unique and very helpful!" - Ginny R.
---
"This is THE perfect resource for managing DIY home projects! Having just purchased my first home, I had a million ideas of how to make it my own. However, I quickly felt overwhelmed at the prospect of getting everything done and had no idea where to start. "Project Home" changed all of that! With helpful, step-by-step instructions (including worksheets and bonus videos), as well as fun anecdotes of the author's own missteps, this book will get you motivated to do projects you've been putting off, as well as keep you on track throughout the process. This book is a must-have for all DIY-ers!" - Tracy B.
---
Your Teacher
Jackie Hernandez teaches women the science behind the art of decorating so they can create a beautiful, meaningful home, even if they aren't creative. Jackie founded School of Decorating to bridge the gap between "designer" and "homemaker." As a wife, mother of two boys, and a small business owner that works from home, she knows how important it is to make your home fit you.

Class Syllabus
Download the Book
Available in days
days after you enroll
Video Lessons
Available in days
days after you enroll
Frequently Asked Questions
What do I get with my purchase?
Project Home is a digital book that comes with additional resources to make all your home projects a success. In addition to the digital book, you get access to 4 video lessons demonstrating key concepts in the book and 7 worksheets to help you implement everything you learn.
How long do I have access to the book and resources?
You'll have instant, lifetime access to the book, videos, and worksheets. Once you purchase Project Home, you will create a login to access the materials. You will be able to download the book and worksheets to your computer or device. The videos are streaming and you can log in to access them anytime and anywhere you have a good internet connection.
What is your refund policy or guarantee?
I know if you apply the concepts in Project Home, all of your home projects will be a success. If for any reason you are unhappy with Project Home, simple email me within 30 days of your purchase and I will provide you a full refund. No questions asked.
This course is not currently open for enrollment.